Exterior Foundation Waterproofing
Regina's #1 Basement Repair Specialists
AAA SOLID FOUNDATIONS
FIXING WATER ISSUES FROM THE OUTSIDE
One good reason for waterproofing a basement from the outside is that is where the issues originate.
Water that enters a basement comes from the soil surrounding it. Water can get in many different ways.
From below the foundation
through cracks, holes, or loose or missing mortar
Over the foundation walls
In Saskatchewan, and particularly in the Regina area. We have clay-based soil. It is expansive soil, one that allows very little drainage and absorbs a lot of water. The particles of clay soil are smaller and more compact. The soil swells when saturated with water and contracts when dry.
Sandy soil doesn't expand much. Because the sand in the soil creates more openings between particles. Allowing water to drain through the soil better.
All this expansion and swelling creates pressure around the foundation. That pressure can push water through any small opening. A crack, porous spot, unsealed utility opening. Causing seepage in the basement.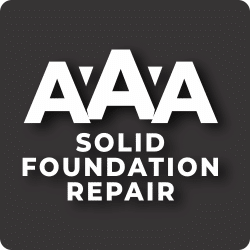 We offer financing with our partner Eco Home Financial

Exterior waterproofing involves digging around the foundation of the house. Exposing the issues of the foundation wall. Then repairing, waterproofing, adding drainage system, and backfilling the excavation.
Depending on the issues with the foundation, the excavation may include one or two walls or potentially all sides of the home.
REQUEST A BASEMENT / FOUNDATION ESTIMATE
If your home has signs of water seepage or there are cracks in your foundation walls or floor.

At AAA Solid Foundations, we pride ourselves on doing the best work possible. We work only with seasoned, professional structural engineers who are familiar with the soil conditions in the Regina area.