Foundation Leveling | Underpinning
Leveling a Settled House
AAA SOLID FOUNDATIONS
STABILIZING A HOUSE FOUNDATION
Underpinning (or leveling) a house or a building when it is sinking too much. We excavate the earth beside the house to the footing. Then install either bored concrete piles or screw piles.
A screw pile is a screw-in piling and anchor. It consists of a hollow pipe and a helix or helixes.
We then install a bracket that lifts the footing up. The lifting is performed simultaneously on each pile, so everything lifts together. Once the foundation is at the desired level. Determined by the laser level. The piles are then tightened to a bracket assembly and the foundation is now sitting on piles.
The piling shaft transfers the load of the structure into the pile. Screw piles are typically installed in one day and you could build on that same day.
Concrete piles need curing time, which is why screw piles have a huge advantage. Screw piles also have less ground disturbance and are ideal for underpinning. Screw piles are also used with new construction in houses, decks and additions.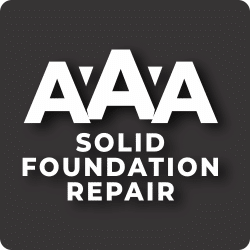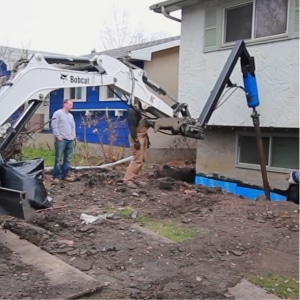 Using Screw Piles
to Level a House
Helical piles are screwed into the ground under the house structure. Until they reach dense and compact soil with the desired load-bearing capacity.
During installation, the equipment measures the driving torque, allowing to determine the bearing capacity of each pile in real-time.
Steel foundation brackets are then bolted to the bottom of the structure and welded to the piers. Thus, the weight of the structure is directly and permanently supported by the piles.
REQUEST A BASEMENT / FOUNDATION REESTIMATE
If your home has signs of water seepage or there are visible cracks in your foundation walls or floor.