Foundation Wall Straightening
Regina's #1 Basement Repair Specialists
AAA SOLID FOUNDATIONS
FIXING WALLS FROM BOTH SIDES
​In some extreme circumstances, a basement wall can shift so far that it becomes unsafe. When this happens, the foundation wall(s) will need straightening and bracing.
Excavating the damaged wall is the first step. This provides the necessary space to straighten the wall.
Installing structural steel braces to the exterior and interior of the foundation. Applying gradual pressure to the braces will straighten the bowed walls.
Once the wall(s) are straight and secure. Repairing other damage to the foundation can start.
If required, we will
– install weeping tileor Drain Tile. Usually a 4" flexible plastic tube with rows of holes/slits for water to enter. The tube is wrapped with fabric to prevent dirt and small stones from entering. The weeping tile is installed either inside or outside of the home at the base of the foundation. The drain tile will collect water and move it away from the foundation. More
– a sump pit with a submersible sump pump
When this is all completed, waterproofing the foundation wall can begin.
Backfilling the excavated trench with the proper materials is also completed.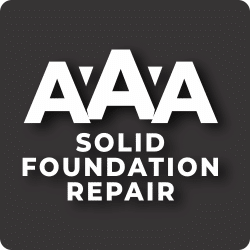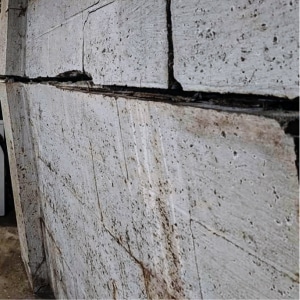 REQUEST A BASEMENT / FOUNDATION REESTIMATE
If your home has signs of water seepage or there are visible cracks in your foundation walls or floor.