BASEMENT FOUNDATION REPAIR ESTIMATES
Honest Advice & Pricing
AAA SOLID FOUNDATIONS
BASEMENT FOUNDATION REPAIR ESTIMATES
The foundation of your house bears the entire weight of your home. Transferring the weight load to the earth below. Your home's foundation also keeps your home in place. A strong foundation will help hold the house during a natural disaster and adverse weather conditions.
A proper foundation also helps waterproof and prevent groundwater from seeping into your home.
If you think your foundation is in need of repair, simply fill out our quote request form.
Signs of Foundation Problems
Foundation, Wall or Floor Cracks
Foundation Settling or Sinking
Basement Floor Heaving
Doors that Don't Open/Close Properly
Sagging or Uneven Floors
Damp or Wet Conditions
Strong Odors or Mold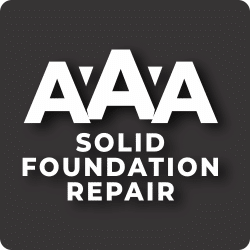 We offer financing with our partner Eco Home Financial

ALL QUOTE REQUESTS ARE ENTERED TO
WIN A $100 GIFT CARD
from

Dewdney Avenue location
At AAA Solid Foundations we don't use scare tactics.
We review all aspects of the basement foundation. Inspecting all underlying conditions and outside factors. Working with engineers, we generate a comprehensive report.
If your foundation doesn't require bracing we don't pretend that the foundation needs repair.
Basement Foundation Repair Request Form
Please fillDescribes the soil( or other material) added to the excavation to provide the desired level to properly slope water away from the foundation of the house. out the form below to schedule an estimate.
DID YOU KNOW?
AAA Solid Foundation Repair works in a 200 km radius around Regina.
This includes Estevan | Weyburn | Moose Jaw | Yorkton | Assiniboia | Gravelbourg | Davidson | Fort Qu'Appelle | Indian Head | Melville | Emerald Park | White City
Follow Us on Instagram or Facebook to be notified when we will be in your area providing Free Estimates for Foundation Repair.
REQUEST A BASEMENT / FOUNDATION ESTIMATE
If your home has signs of water seepage or there are cracks in your foundation walls or floor.

At AAA Solid Foundations, we pride ourselves on doing the best work possible. We work only with seasoned, professional structural engineers who are familiar with the soil conditions in the Regina area.