BASEMENT FOUNDATION REPAIR
YARD & HOME MAINTENANCE CHECKLIST
How to Prevent Water in Your Basement
Preventing Water in Your Basement Starts in the Fall
Yard Maintenance Checklist
The best way to prevent water in your basement in the spring is to perform maintenance in the fall.
Fall is a pretty time of year and often people's favourite time of year. The problem with the fall is winter is right behind it.
We can't always trust the weather forecast to tell us when we will get the first snowfall. So this time of year is the time to prep your yard and home for snow and colder temperatures.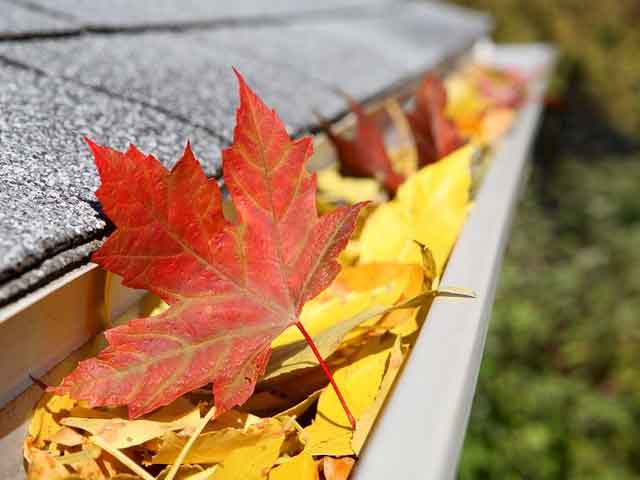 Basement Flood Protection Checklist
If your basement is susceptible to becoming musty or has small pools of water in the spring, there are a few things you can do to help reduce the risk. See the checklist.
If you always have water in your basement, we can help fix your basement foundation. Request a basement repair quote.
There are two types of basements: those that leak and those that will leak unless repaired.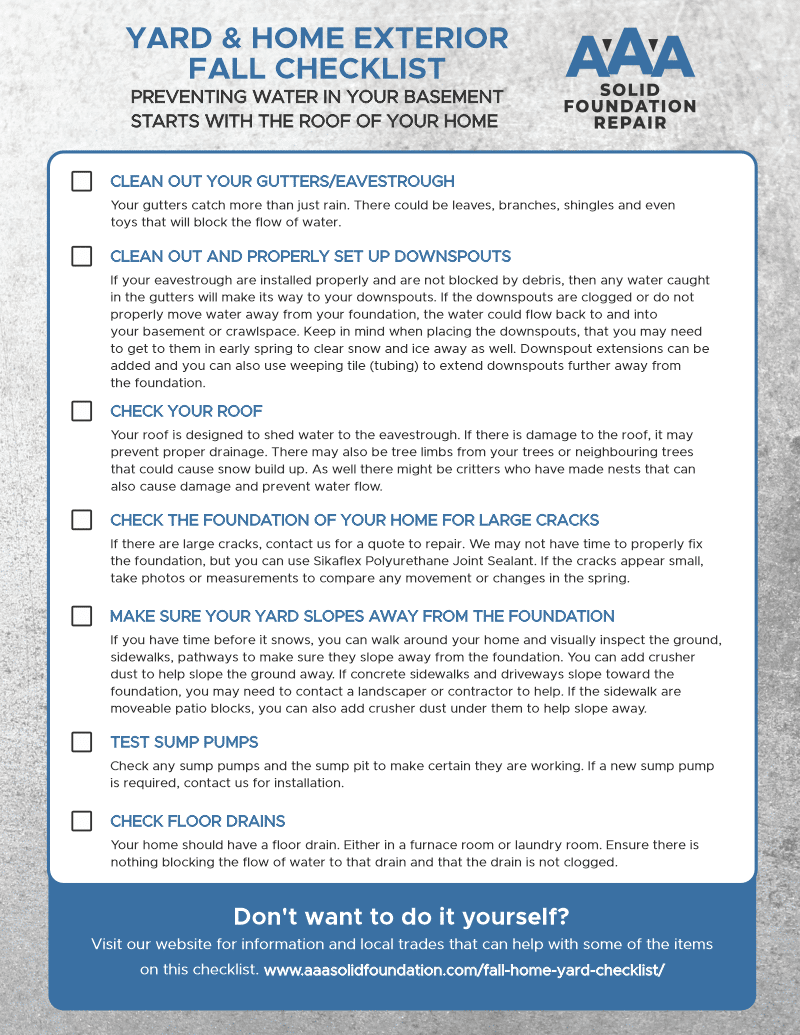 Exterior Projects to Help Prevent Basement Flooding
This list involves items you can do in your yard or to your home to help prevent water from getting into your basement.
SLOPE THE GROUND AWAY FROM YOUR FOUNDATION
Ideally all driveways and walkways around your home slope away. The exposed ground/grass should also slope away.
A good rule is to slope the ground about 15 centimetres for the first 3 meters away from the foundation.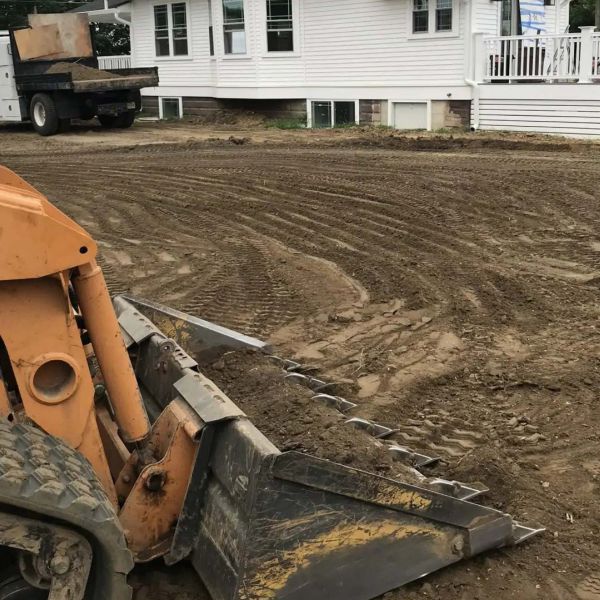 FILL IN ANY LOW-LYING AREAS
If your yard is sloped away from the foundation, you will also want to fillDescribes the soil( or other material) added to the excavation to provide the desired level to properly slope water away from the foundation of the house. More in any low areas. If rainwater or snowmelt pools in your yard, that water can also seep into the ground.
Water will always find the path of least resistance. It can happen above ground and below ground. Pools of water in your yard can still cause issues to your foundation.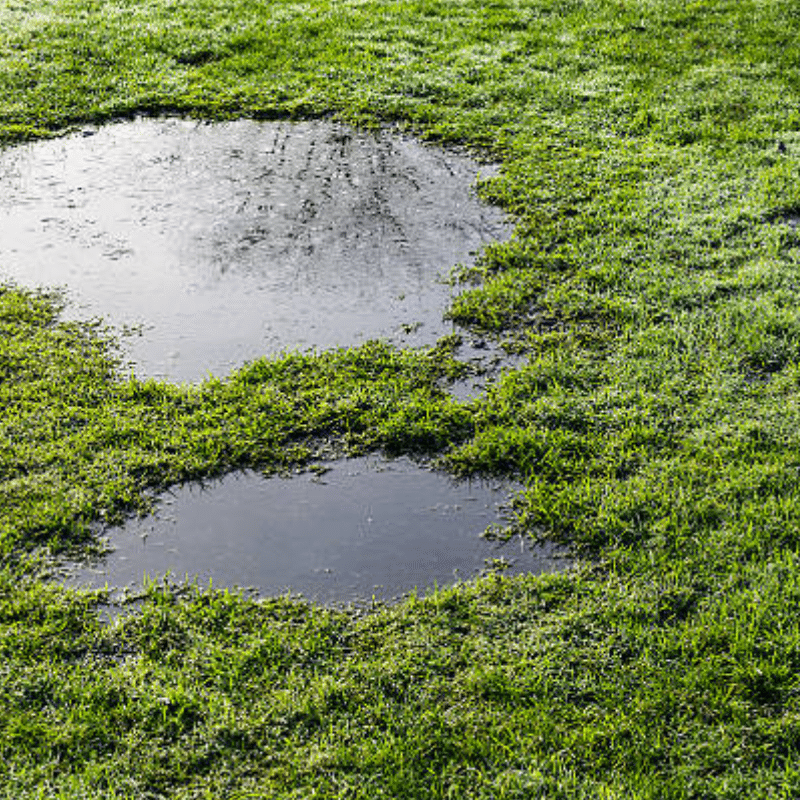 EXTEND DOWNSPOUTS
The water that comes off your roof, into the eavestrough and into downspouts will drain into your yard. A lot of times, in older homes or exterior renovations, the downspouts may just end a few feet above the ground.
You can extend those downspouts with downspouts from a hardware store or hire a local eavestrough company. You may also use weeping  tile (non-perforated hose) to extend a downspout.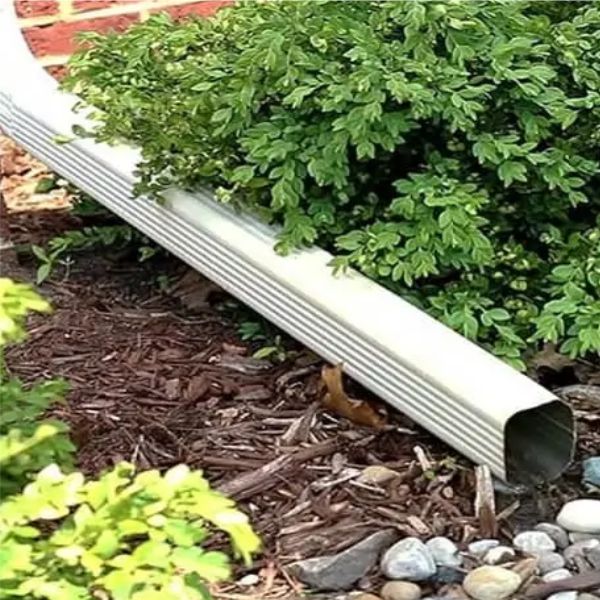 INSTALL A FRENCH DRAIN
A French drain is an irrigation method that is meant to collect water from the soil near the home's foundation and safely move it away.
Typically, these systems consist of a corrugated and perforated PVC pipe set under gravel and a few inches of soil.
The idea behind this system is to have rainwater soak into the ground, drip onto the gravel bed, and then fall through a geotextile fabric and into the pipe to be removed.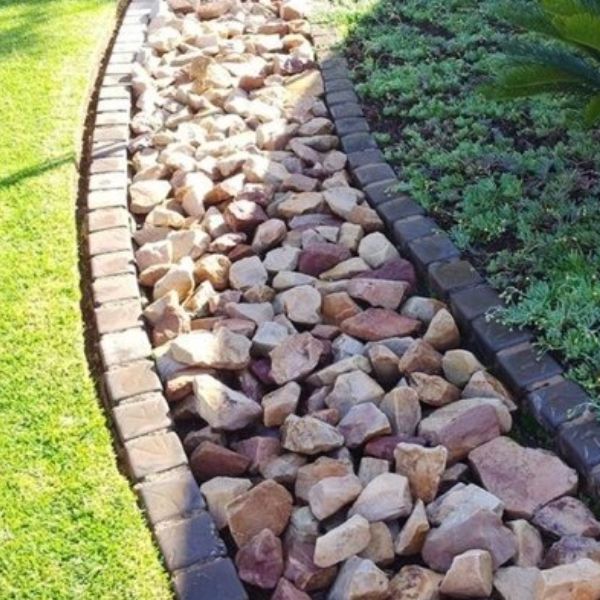 INSTALL RAIN BARRELS
Rain barrels are a great way to capture rainwater and keep it from going into the soil around your home.
However, there are a few things to consider. If it rains a lot or you are not using the water in the rain barrel then it can overflow. Make sure the overflow feature for the rain barrel is installed and distributes water away from the home.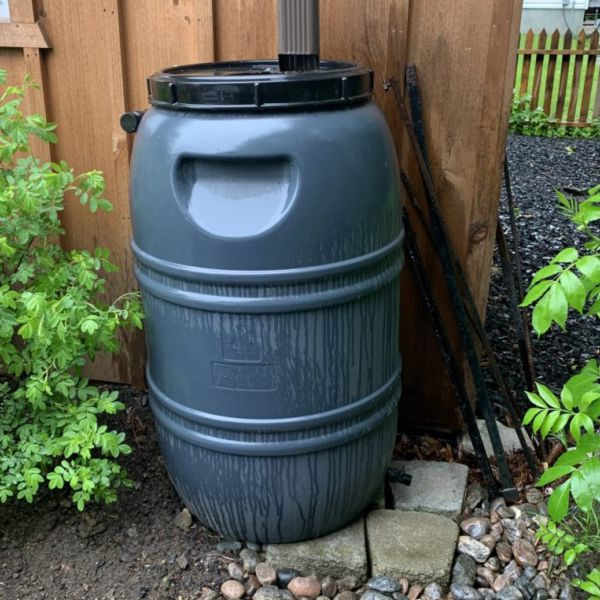 Homeownership involves constant maintenance. Finding time to check on things and fix them might be difficult. However maintenance is far less expensive than home repairs.
FALL HOME MAINTENANCE CHECKLIST
Have your furnace checked
Change your furnace filter
Have your furnace and ducts cleaned
Check smoke detectors & carbon monoxide detectors
Check your fireplace and chimney
Check or replace the fire extinguisher
Blow-out underground sprinklers
Have dead limbs on trees removed or pruned
GET HELP FROM PROFESSIONAL LOCAL TRADES
There are many reasons to hire a professional to help you. Professionals have the tools, the experience and the insurance to perform their services.
Check out the list of local trades that can help you.
Although AAA Solid Foundation is offering this list, please do your own due diligence on each trade you hire. Check their online reviews, call them and ask them questions.
IF YOU HAVE CRACKS IN THE BASEMENT FOUNDATION,  REQUIRE A NEW SUMP PUMP OR WOULD LIKE A FREE QUOTE FOR FOUNDATION REPAIR, CONTACT US.
ROOFING & INSPECTIONS
EAVESTROUGH/GUTTER CLEANING
FURNACE TESTING & REPAIR
FURNACE & DUCT CLEANING
RESIDENTIAL SNOW REMOVAL
SPRINKLER BLOW-OUT
TREE PRUNING (ARBORIST)
REQUEST A BASEMENT / FOUNDATION REESTIMATE
If your home has signs of water seepage or there are visible cracks in your foundation walls or floor.